ABOUT US //
Gari Camaisa | Jugendstil Inc.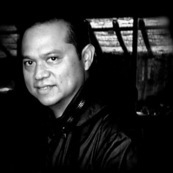 "Design is an ever-changing medium of expression,
meant to explore the deeper senses of people.
It conjures the essence of daily living as people interact with objects,
space and environments.
It elaborates intimacy and warmth and mimics passages of emotions."
Gari Camaisa
Gari Camaisa, principal designer, founded Jugendstil Inc. (pronounced "yoo-gend-shteel) in 1992
as a full-service design consultancy firm. Shortly after, in 1994, Jugendstil Inc. was established in the US,
in the San Francisco Bay Area.
The design firm specializes in Contract and Residential Interior Design Consultancy Services.
General project undertakings typically involve space planning, design development pertaining to interior
and exterior color/finish/materials schemes, furnishings scheme, aesthetic architecture, garden design,
building design, and project coordination services.
The firm also specializes in Dental Office Design.
Affectionate to the crude and natural appeal of earthen materials such as stone, wood,
glass and metal, each completed space emphasizes a reverence to simplicity--perfection.
Carefully chosen furniture, lighting, material, and art subtly conjures a pervading symmetry
of style and practicality.